• Song-Poem Music Archive - Vast site of fascinating reading about some of America's most hidden musical treasures. From off-the-charts to total obscurity

• The Laser Turntable - This technological marvel plays vinyl records using a laser beam instead of a needle. No needle, no wear. Perfect for record collectors, archivists and vinyl enthusiasts alike. Audiophile sound quality, even on worn records!

• TV Acres - Cool pop-culture subject guide quickly finds info on Characters, Places & Things that appeared on Network TV from the 1940s to now

• Retrowow - Impressive overview of clothing & hair style fashion trends from the 1950s, 60s, 70s, 80s, plus Retro furniture, architecture, recipes and nostalgia.

• Secret Fun Spot - Remember those old ads in the back of comic books for X-Ray specs, life-size monsters & hand buzzers? At this ultra cool site you'll find that plus a whole lot more pop culture goodies & fun stuff.

• Hepster Dictionary of Jive - Terms & phrases of Jive, the jargon of hipsters, published by Cab Calloway circa 1939.

• Slang Of The Fifties - A Hepcat's Guide to 1950s Fads, Fashions, and Slang!

• Slang Of The Sixties - A Swinger's Guide to 1960s Slang, including Surfer Slang!

• Girl Groups - The Ultimate site for the Great Songs, Cool Styles, and Fab History of the early 1960s Girl Groups. Lots of pictures and info makes this the ginchiest in girldom!

• Bubblegum The Punk - A guide to American Power-Pop Underground 1975-1985

• Rate Your Music - Where music lovers rate albums & write reviews. Search by artist or album title to find out how the LP you want scores

• Unofficial Album Covers - One man's idea of record covers that should have been

• Rockin' Country Style - A discography of Country Rock & Roll and related records, from 1951-1964 compiled by Terry Gordon. Song samples included!

• Retroplanet - Find all things retro & cool, from out of this world gifts, décor, home furnishings, furniture, kitchenware, clocks, bar & lounge accessories, & kitsch!

• Beatnik Poem Generator - Ramble a fine line and it will write a groove for you

• The Pinup Page - 1940s and 50s Pinup Girls from the golden age of Girlie Mags

• King Kini's Club Velvet Cocktail Lounge - A Very Cool Site, fit for a King.

• The Heavy Metal Encyclopedia - Large reference site covering many genres of metal, including UK; Thrash; Death Metal; Stoner; Progressive; Christian; etc; past & present, famous & obscure.

• The Acid Archives of Underground Sounds - The Lama "Acid Archives" Website has merged with Ron Moore's excellent "Underground Sounds" site.

• Flashback Magazine Flashback is a cool magazine covering overlooked 60s and 70s music in depth, with outstanding new writing from authorities including Richie Unterberger, Patrick Lundborg, David Wells and Aaron Milenski.

• The Bosstown Sound Everything you need to know about the 60s underground music scene in Beantown, well researched by Paul 'Blowfish' Lovell. Z

• ZineWiki is an open-source encyclopedia devoted to zines and independent media. It covers the history, production, distribution and culture of the small press.

• The Psychedelic Sixties - Literary tradition & social change from the special collections department of the University of Virginia library.

• Beatniks and Beat-Flicks - A list of Must-See Movies for the Cool-Set.

• Drive-In Theaters - Comprehensive Site detailing Ozoners everywhere, old & new

• Space Age Pop Music - In-depth look at Exotica, Lounge, Cocktail, Incredibly Strange, & Easy Listening Music... and a who's who of the people who created it.

• Yootha Archive - British & American comic books & magazines available by expert digital reproduction. Their nostalgic vintage collections contain hundreds of classic out-of-print titles.

• Galactic Central - Dedicated to authors, bibliographies & checklists related to science fiction; fantasy; horror; detective; westerns; girly; pulps; illustrated & men's magazines; more. It's galactic!

• More Cow Bell - Add cowbell to any song! Just upload your favorite MP3 & instruct the DJ how much cowbell you would like added to it, or maybe even a little Christopher Walken chanting "More Cowbell"!

• Ugly Things - Read about the wild sounds from past dimension in articles & interviews with some of the finest overlooked artists from 1920s rural blues; 1950s R&B; 1960s Beat, Garage, & the Psychedelic era, to obscure 70 & 80s punk rock.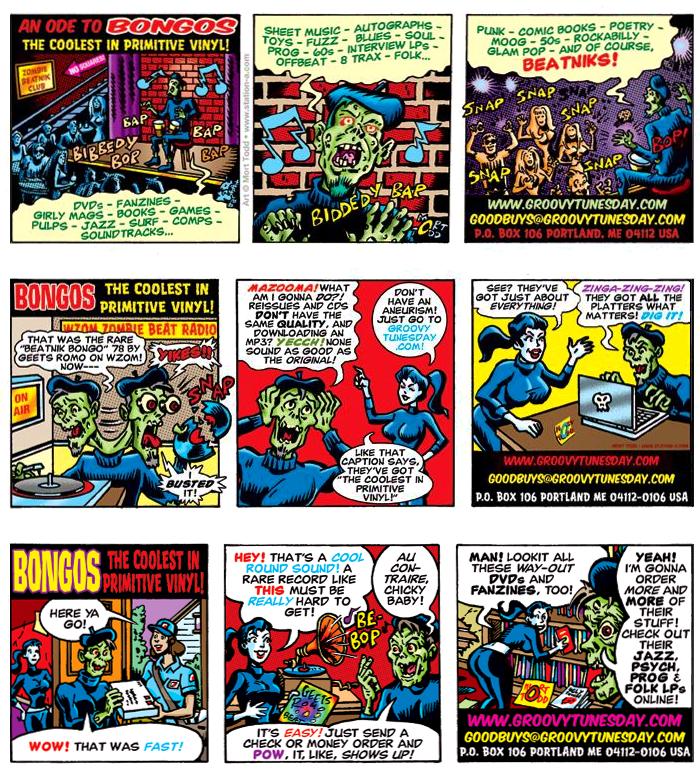 • Comic Fix - See the wildest comics ever conceived! The comic art of Mort Todd, includes comic books, flip books, art prints, photo novels, pulp novelettes, films, animation, DVDs, and more, including Sadistik, the Diabolikal Super-Kriminal!
• Burlesque Archive - A-Z Archive of Burlesque Strippers includes stage name & real names, type of dance routine, peak popularity years; etc; plus Films with or about Burlesque, and much more.
• The Wonderful World Of Longmire - One of my fave sites. Be sure to check out the (almost) Daily Comment for some truly profound pearls of wisdom
• The Magic of the Clavioline - The 'In' Sound from Way Out! Interesting site with fun clips and info about the keyboard instrument popularized by Del Shannon, Sun Ra, The Tornadoes, Ennio Morricone, & others. Predecessor to the Sonocon and Musitron
• Origins of Rock and Roll - Timeline of contenders for "The First Rock & Roll Record", including origins of the term "Rock & Roll" in lyrics, to various melodic, harmonic or rhythmic precursors that would influence rock music as we know it.
• Album Cover Art Gallery - Wide assortment of record jackets pictured.
• Music Resources - Interesting audiophile site with information & free tools including a large dictionary of musical terms, templates for setting your tonearm, articles on turntables, speaker placement, and 6 different vinyl cleaning formulas.
• Turntable Needles - Formerly known as Garage-A-Records, this site offer phono player needles & cartridges, belts, cleaners, manuals, and a whole lot more.
• Musical Heaven - Showcasing the worlds best loved musical shows including Opera, Movie Musicals, Broadway Musicals, Off-Broadway Musicals & London's West End
• Thrilling Detectives - Comprehensive encyclopedia of Private Eyes, Spies & Detectives on TV, radio, comic books, & in the movies
• Spy Bop Royale - Fun site dedicated to the Secret Agent Soundtrack of the 60s